New Products
Jons' custom Boar Spear: Shown with the Boar he killed....
Spears on More Blades page.
"NEW PICS COMING SOON"....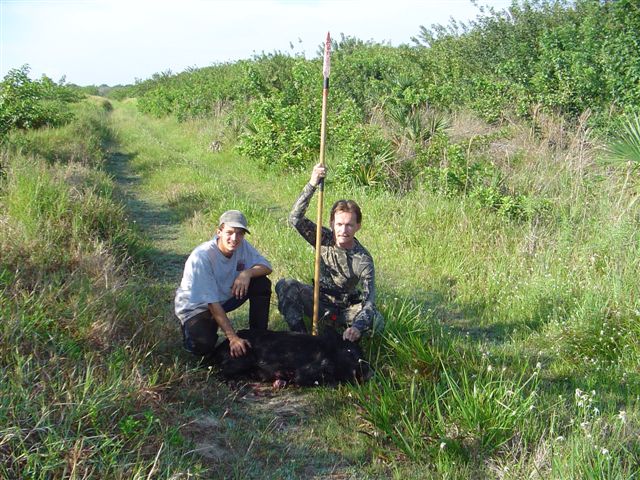 Deguello Push Knife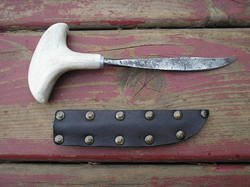 Hammerforged mystery steel, stag handle and rivetted sheath.Mean lookin! PRICE: $ 165.00 SOLD
Hawxe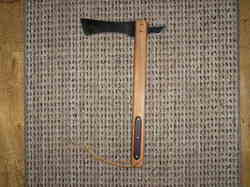 Cross between a Tomahawk and a Norse Axe. Stainless blade rivetted to a cherry handle with Purpleheartwood inserts.
This is a keeper, I carry it in the bush when wood hunting...
Neck Knives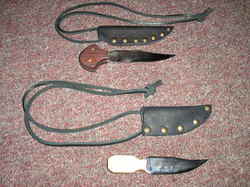 Tombstone Mini and Arkansas 2 Finger. Knives you wear around your neck....ATS-34 Stainless Steel Blades. Inquire on price...2 in stock!!!! SOLD
Californian Neck Knife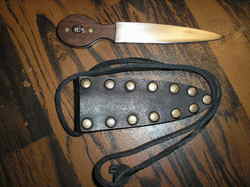 Blade is ATS-34 S/S 3/4" X 3 1/2" Single edged. Leather riveted sheath with lanyard to wear around neck.
Skull ornament on walnut wafer handle. PRICE $ 85.00
Please let me know what you think of my site, where you are from? and how you found my site.
Much appreciated: Derek Gartshore/DG Knives